Oakville, Napa Valley, California
14.4 % Alcohol
Tasted 2016-12-25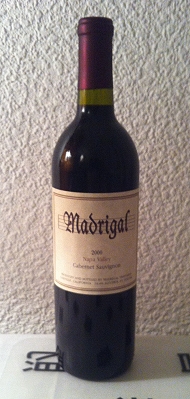 Deep and dark ruby red with some light rims. Still very fruity. Boysenberries, blackberries and a hint of ripe plums. Also some sliced dried tobacco leaves. Elegant but in parallel also stimulating. Perfectly developed.
At the beginning the mouthfeel is fresh and vibrant. This freshness is improved by a charming acidity to the middle of the long finish. To the end the acidity disappears and makes room for a powerful punch similar to when eating extraordinary dark chocolate. Aristocratic and yummy. Gorgeous.
It is now the second time I have the privilege to drink this Cab from Madrigal. Last time around four years ago we enjoyed it from the magnum. For me it seems the wine is still improving. Of course already perfectly drinkable but the potential for another five years is easily given. I have another mag in my cellar. It is Christmas time and I am a lucky guy.
Pair it as a variant to a Port with a duck parfait.
Additional remark: The 2000 Madrigal is another example of how wonderful Cabs from this totally underestimated vintage can be. On WineAdvocat the vintage is rated 78C! C stands for "Caution, may be too old". Believe me: For this Cab this is totally not true. And I drunk already other examples which might give the impression that the 2000 vintage for the North Coast Cabs was prejudged too early.