Sonoma County, North Coast, California
96 % Cabernet Sauvignon, 2 % Petit Verdot, 2 % Cabernet Franc
14.5 % Alcohol
Tasted 2017-02-17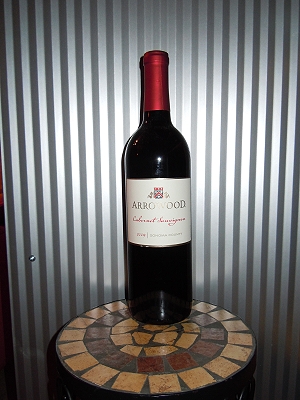 Deep dark but in parallel shiny cherry red. First impression: Bacon, bacon, bacon. But then slowly blueberries take control. From this moment crème de cassis is plentifully paired with a wild mixture of animating spices. Decanting for at least 30 minutes is a very good idea.
The 2009 Cab aromas are indeed very pleasant, but the taste is the key which blows your mind away. On the palate at the beginning extremely fresh. Then parallel to this freshness a certain acidity is joining. This package is already great, but on the next level a velvety transformation process is started which flows into a long, terrific finish.
When I taste wine I see only rarely paintings in front of me. This time it is the case. I see a river with rapids. Wild, irrepressible. But when the rapids are passed the river calms down. But without losing its strength. A great Cab. More on the classical side.
I visited Arrowood twice in the past. And all the time I preferred the Whites more than the Reds. Perhaps for a simple reason: All the wines of Arrowood need time. See also
2010 Arrowood Chardonnay Réserve Spéciale
. But the Whites are a little bit earlier accessible. Sometimes things are easy.
However the 2009 Arrowood Cab is one of the best price / quality ratio I have seen in my life. It is absolutely on the top, but still at the beginning of this fantastic phase. Three or four years more on this level? No problem. Pair it with strongly marinated beef short ribs.