Napa Valley, California
15.5 % Alcohol
Tasted 2017-07-30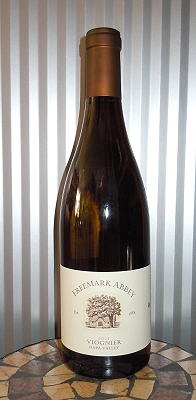 Bright golden yellow. First impression: pure pineapple. In addition lychee as well as a lot more of tropical fruits. On the palate the pineapple continues and provides a creamy carpet. Long, very long finish. And somewhere in the middle a touch of acidity you can find in lemons. Fascinating.
The interesting thing with Californian Viognier is the diversity or better the philosophy of the different winemakers working with this outstanding grape. I usually prefer the "perfumed" style provided for instance by Cline Cellars, Sebastiani or Thomas George Estates. In my opinion the biggest mistake you can do is to prepare a Chardonnay copy. I drunk this very often during my visits and I believe this is the wrong way because you are losing the elegance provided by Californian Viognier. And this is one of the biggest pros in the competition for instance with a Condrieu.
The Freemark Abbey is somewhere in the middle. It has also a little bit the "Chardonnay punch", but an almost aristocratic elegance is still given. Definitely not the wine for every day. Pair it with seared scallops. You can drink the 2013 Freemark Abbey Viognier now or over the next three years.