Schweigen, Pfalz
13.0 % Alcohol
Tasted 2014-05-29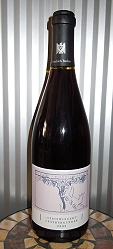 Dark ruby red with some garnet red rims. Medium color depth and very clear. Pure fruity aroma mix of strawberries and red currants but also some hip. Complex and claiming. All the aromas are reflected also on the palate in a smooth and succulent way. Super-long finish ending a little bit furrily which is for me an indicator that the wine is still at the beginning. Already very well drinkable, but in two years the wine will be on the top. Potential up to 2020 and longer. Outstanding!
In Germany there is still the opinion that Pinot Noir is the perfect wine for game dishes, e.g. goose. I see this differently. I love to pair Pinots like the Steinwingert with a nice tenderloin. But during the last months I tried something new. My wife likes Indian style curry (not too spicy). Today she prepared one with turkey, potatoes, red pepper and yellow zucchini. Delicious! With dishes like this Pinots offers something what I call the other side. In addition to the fruit aromas spicy notes from different pepper styles arise. I know that this is not what Pinot gurus like. But for me this is a great pairing. The trick is to prepare the curry not too spicy and to wait around 10 seconds after a bite before taking a sip.
The "Weingut" Friedrich Becker (Weingut means Vineyard) in the Pfalz is located very near to the French border. This leads to the situation that the wines of this winery grow on German and French areas. A rare situation. The region and of course especially the winery is worth to visit. Due to the closeness to the Alasace region two countries can be visited in one day. And the food (but also the wine) in the whole region - on French and German side - is really good. Unfortunately the information on the website (http://www.friedrichbecker.de/) is in German only. But tastings are possible Friday and Saturday.