Napa Valley, California
70 % Cabernet Sauvignon, 30 % Merlot
14.2 % Alcohol
Tasted 2015-04-26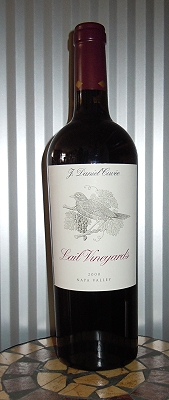 Medium ruby red. Clear with some light rims hinting at ripeness. Compote of plums, a little bit of eucalyptus, cedars and perhaps a touch of cold cigar smoke. But very pleasant and in total complex. On the palate at the beginning the fruit notes are dominating followed by some freshness (the eucalyptus!) which results in a medium to long harmonic finish where all the components come together with a very charming sweetness. One of these wines who tell you after a sip: More, drink more! Again a wonderful example for this underestimated vintage in California.
We opened this wine for a dinner with friends; we had a "Gumbo-style" soup with bush beans, chorizo (Spanish spicy sausage) and prawns and as second course pork burrito with mole sauce. With both dishes the wine harmonized perfectly. Indeed I believe that the J. Daniel Cuvée is a wonderful food pairing wine. With its silent elegance it adapts wonderfully to a wide range of food - may it be more spicy like the Gumbo or a very special "flavor bomb" like the mole burrito. The J. Daniel Cuvée punctuates the dishes, not overwhelming them.
The wine is wonderful to drink at the moment. It will hold this quality another three years minimum.