Some days ago I reported about a very good wine merchant in Munich. For my blog I bought a "grab bag" - six bottles of wine with the intention to review these wines in my blog as elements of two separate dinners. As you have probably read, the first one was quite successful

.
The slogan for this second tasting: "
California Wines - Incredible Bandwidth
". This ambiguous title is indeed true! For the fantastic wine selection of the shop "California Wines", but also for the wines coming from this area - very well represented by the three wines of the tasting.
- 2006 Varner Chardonnay Spring Ridge Vineyard "Bee Block"
- 1997 Joseph Phelps Vineyards Merlot
- 2006 Jeff Runquist Petite Sirah "Salman Vineyard"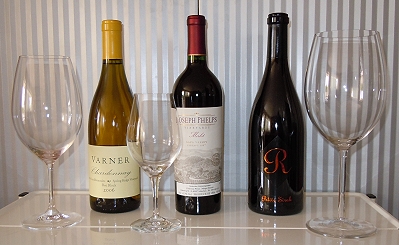 The "Grab Bag" - Part two
Especially about one of the three wines I was very curious - the Merlot from Joseph Phelps Vineyards. We visited this vineyard two times over the last years (the Napa Valley tasting room) and were during both stays impressed not only by the people and the wines but also by the wonderful surroundings.
Joseph Phelps Vineyards - the location of the "Terrace Tastings"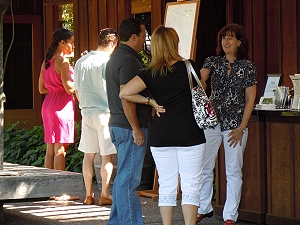 Friendly people, outstanding wines. Tastings at Phelps are absolutely recommendable.
We prepared for these wines a menu with three courses:
- 1st Course (Chardonnay):
Linguine "Pesto Verde" with grilled Prawns
- 2nd Course (Merlot):
Broccoli Soup with "Greek Style" Cheese
- 3rd Course (Petite Sirah):
Home Made Chili
The selection of the third course sounds perhaps a little bit strange, but I can assure that together with the Runquist Petite Sirah this is a real experience!
However: Business before pleasure. First the wines were tasted alone.
2006 Varner Chardonnay Spring Ridge Vineyard "Bee Block" (90/100)
Santa Cruz Mountains, California
14.5 % Alcohol
Golden yellow, clear and deep. Discreet aroma of exotic fruit mix: Pineapple, a little bit pear, mango and more. The typical vanilla tone is more in the background. This wine is a representative of Californian chardonnay modern style. In the mouth crispy and fruity. Strong but in parallel also fragile. In its own way more the Burgundian style without denying its Californian roots. Still young. Wait for another two years. A perfect partner for sea bass.
1997 Joseph Phelps Vineyards Merlot (91/100)
Napa Valley, California
14.0 % Alcohol
Ruby red with direction into garnet red. Aromas of dried red fruits paired with earthy notes. Surprisingly still a fresh note. In the mouth the wine suddenly bursts. Extremely fruity, fat and full bodied. A Merlot masterpiece (with 10 % Cabernet Sauvignon

). Long finish. A wonderful partner for any kind of goat cheese.
2006 Jeff Runquist Petite Sirah "Salman Vineyard" (90/100)
Clarksburg, California
14.5 % Alcohol
Deep cherry red. Some light rims and purple reflexes. Very fruity aroma of cherries (cherry brandy?) but also a very well prepared red cabbage with apples (in an absolutely positive way!). The mouth feeling is also dominated by cherries but more in the way like a Black Forest cake. Again the cherry brandy. Full bodied. Very long finish which becomes smoother and smoother to the end. A very, very good Petite Sirah which is on the top. It will hold the quality for another three years minimum. The perfect partner in late autumn for a red grilled Barbarie duck breast with port wine/cherry sauce. Perhaps with duchess potatoes and glazed snow peas? But we are in summer. So we did it differently

.
And the wine / food pairing? A great menu.
1st Course:
The "Bee Block" chardonnay from Varner worked very well with the pasta. Together with the linguine it developed a creamy note due to the olive oil. With the prawns more citrus notes came into the foreground. Perhaps not the perfect partner, but still a very good combination. We liked it.
2nd Course:
The Broccoli Soup was the surprising course. Indeed all three wines harmonized with the soup, but the Phelps' Merlot offered wonderful spicy aromas together with the natural broccoli tones which ennobled the soup. An outstanding pairing.
3rd Course:
And the Chilli? We prepared it in "a very classical way" but not too hot. This is important if you want to pair with wine instead of beer. The Jeff Runquist Petite Sirah is a fantastic partner for such a chilli. Due to its sweetness it combines the hot chilli aromas to a "hot-sweet" experience which is worth to check out.
In total again a remarkable experience. All three wines are "stand-alone" very, very good. But together with the selected dishes they reveal their real qualities. This "grab bag" provided only positive contents. Kudos to "California Wines" for this selection.