Recently I found in my cellar a bottle 2010 Chardonay Carneros from Roche. I thought it would be a good idea to drink this (last) bottle of this winery and to recall the place where my passion for California wine began. Indeed Roche was the first winery I visited in California. It was in 2008 and at this time the Roche tasting room was located at Arnold Drive, coming from the south just behind the Sonoma Raceway (formerly Infineon Raceway). My wife and I had an appointment at Gundlach Bundschu and of course we started our tour from Novato too early. First time in the area and no idea of nothing and how long you need to drive. And no navigation system.
So what to do? We stopped at the first winery which was already open at 10 in the morning. And just this moment we passed this scenic gate at the entry of Roche (today the Ram's Gate Winery is located over there). To stop here was indeed one of the best decisions of our life. Besides the fact that the quality of the wines of Roche is quite good, we met the first time one of today our best friends in the US. Our friend Brian not only presented the wines in an outstandingly charming way, he also gave us perfect recommendations for other wineries, transport of wine back to Germany and so on.
We stayed in touch but the funny thing was that we met in the upcoming years two or three times again per coincidence. For instance two years later we were looking for the tasting room again, but the location at Arnold Drive was closed. So we continued to Sonoma, walked around and suddenly saw the new Roche tasting room. And inside we found - Brian. It was the only day in the week he worked over there. Since then we met him and his beautiful wife Nancy at least once per trip to enjoy a lot of extraordinary areas with fantastic people all around the valleys. And of course it was Brian's idea to establish this blog.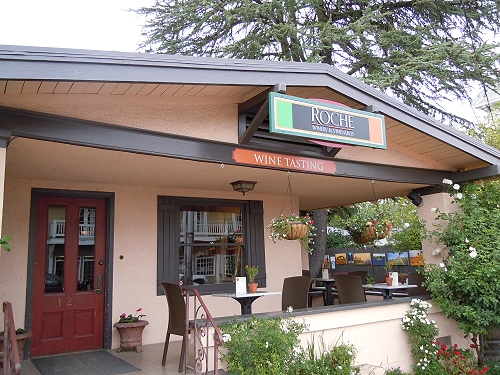 Roche Tasting Room in Sonoma
But coming back to Roche Winery & Vineyards. Let's start with the tasting room. The location in downtown Sonoma just off the Sonoma Plaza is well-chosen. It is housed in a nice craftsman style building from the 1940's. Indoor and outdoor tastings are possible. I personally favor the outdoor tastings. You can relax on the porch or at the comfortable outdoor tables and have a look on the Sonoma Square. It is allowed to bring your own picnic and enjoy it together with the Roche wines. We did this once. Brian brought some artisan cheese and organised a tasting for us and some friends from Germany we showed this nice place. Fantastic. If you don't have some food with you but you are hungry - no problem. Roche has a partnership with the Sunflower Caffé nearby (http://www.sonomasunflower.com/). The owners of Roche encourage families to bring children and they are dog-friendly.
And the wines? I start with the review of the above mentioned Chardonnay.
2010 Roche Winery Chardonnay Carneros (89/100)
Sonoma, California
13.8 % Alcohol
Tasted 2014-08-16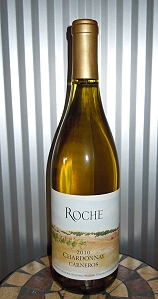 2010 Roche Winery Chardonnay Carneros
Nice and clear yellow gold. Explicit gooseberry aromas. A little bit nuttily (young walnuts). In the mouth the gooseberry style is continued. A little bit like a Gooseberry- Meringue Cake. Straightforward, still crispy and very pleasant. Very long finish. On the top, but it will hold this quality for another two or three years.
Food pairing with Roche wines is in general no problem. This special Chardonnay is a typical summer one. If the sun is shining and you share this bottle with some nice friends and perhaps some cheese or Italian antipasti, then you know that life is good. We paired it with a classical "German" dish: Viennese Schnitzel with French Fries. Worked very well. The Carneros Chardonnay gave this dish exactly what it needs: Fresh and fruity pairing aromas.
From my perspective the Roche Winery is a real Chardonnay expert. Far away from all prejudices of Californian Chardonnays (too fat, too buttery and so on) here very fresh wines of this grape are produced which are perfect for food pairing. Roche offers different styles of Chardonnay: Stainless Steel, French Oak, American Oak and a Late Harvest variant. You like Reds more? No problem. Also the different red variants are worth to try. Check out this place during your next Sonoma stay. You will not find Roche wines in discount stores or wine shops! Nearly all information can be found on the Roche Winery website (http://www.rochewinery.com/). I will vist the winery again during one of my next trips and will give a more detailed report with more pictures.