My wife and I love Cajun Cuisine. Unfortunately in Germany it is very difficult to prepare something similar to the dishes you get at the "Bless My Soul Cafe" in Eureka, California. I love this style of Cajun food with the Californian touch. However with some tricks you can bring back the vacation feeling on the table. And my wife did. She prepared a traditional Gumbo with chicken, shrimps, garlic sausage and rice.
For the wine I decided to go the traditional way: Sauvignon Blanc and Pinot Noir. But of course I tried the "cross-over" pairing: I opened some bottles of these varietals from German producers.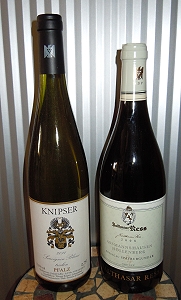 German Partners for Gumbo
2011 Knipser Sauvignon Blanc (87/100)
Laumersheim, Pfalz, Germany
10.9 % Alcohol
Tasted 2014-08-17
Pale yellow green, a little bit sparkling. Very intensive aroma of green pepper and some immature kiwis in the background. Extremely fresh. In the mouth a nice and pleasant acidity paired with some spices. A summer wine at its best. Still very young. Will keep its freshness for another two years minimum. Sensational bargain (I paid 10 Euro at the winery!). Wonderful with cold fish dishes or Asian food.
2008 Balthasar Ress Assmannshausen Höllenberg Spätburgunder (89/100)
Rheingau, Germany
12.5 % Alcohol
Tasted 2014-08-17
Clear and light garnet red. The wine is already dominated by the secondary aromas of earthy notes and wet wood (oak tree); some strawberries in the background. In the mouth strong with a good spine. A little bit too acidic at the end of the long finish. But that can be changed by waiting a while. In a difficult phase and so decanting makes sense what I did. Already during decanting more strawberries available. Let's see. After one hour completely different view. The Pinot is now smoother, creamier. Without losing its strength. However I believe after holding another two years the wine will be more open (again). So wait a little bit. Pairing with food? Difficult to decide at the moment. Indeed the pairing with the Gumbo was sensational. See below.
The Gumbo tasted fantastic. And both wines were very good partners - with some pros for the Pinot. The Knipser Sauvignon Blanc added some citrus fruit tone to the dish. The one and only problem was that taking a sip directly after some Gumbo a little bit overlaid the flavors of the dish. So you should wait perhaps for 10 seconds before taking a sip. The Ress Pinot in contrast strengthened the aromas of the Gumbo and was growing together with the dish. Wonderful pepper aromas arose and the whole mouth was filled with a very rich feeling. Pairing at its best. The wine was fundamentally better with the Gumbo than alone.