Tasting Date: 2015-05-17
This weekend we visited some friends who are both working as forest rangers. They gave us fresh wild boar and also we had some fresh chervil. So we decided to prepare a nice venison dish and combine this with a small tasting - one white and one red.
For the white wine we selected a well matured Chardonnay from C. Donatiello whereas the Reds were represented by a Syrah from Qupé. We expected that the mild prepared venison with the chervil would be enriched by the Chardonnay with a fruity fresh note. On the other hand we hoped that the Syrah would more punctuate the typical earthy notes of such a venison dish.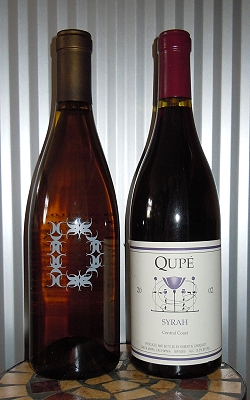 To come right to the point: The Syrah worked perfectly; the Chardonnay only partly. In principle the idea was good but especially this example from C. Donatiello was a little bit too much dominated by resin notes. On its own no problem but the pairing with the chervil was difficult. I assume a Newton Chardonnay from the same vintage would be the better selection in this case.
2007 C. Donatiello Chardonnay "Maddie's Vineyard" (87/100)
Russian River Valley, California
14.4 % Alcohol
Golden yellow color. Interesting bouquet mix of vanilla, oranges, ripe apricots and honey. The taste is dominated by the honey and a clear resin note. However still a nice freshness. Medium long finish.
Don't wait longer. Drink this Chardonnay now. As a partner a nice idea would be roasted salmon tartar with fresh salad. A wonderful dish I ate recently in one of my favorite restaurants.
2002 Qupé Syrah (90/100)
Central Coast, California
13.5 % Alcohol
Cork broken. Clear, deep ruby red. Wonderful bouquet of red fruits paired with a touch of leather and a little bit black pepper. On the palate blueberries, licorice and again a leather tone. Long - very long - where in the end the licorice is clearly dominating.
A little bit over the time. Drink it now and pair it with a classical dish from the Provence. Perhaps a Bœuf en Daube (Provençal Pot Roast)?