The wine: Two Hands 2010 Lily's Garden McLaren Vale Shiraz

One day a friend from Scotland presented us two cans of haggis. We mentioned for several times that we would really like to taste this Scottish national dish and so suddenly there was no further excuse. Of course we missed the Burns Supper at the 25th of January, but we are Germans - we are excused.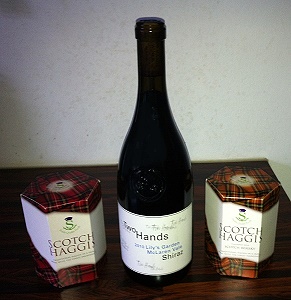 One week later we started the mission. The good thing with Haggis in cans is that the preparation is easy - which seems not to be the natural thing. Nearly all recipes we checked sound - let's say - interesting. Mostly we like that all of them end with drinking a whiskey - alternatively before, during and / or after eating.
So the most challenging thing for us was the pairing of food and wine. We wanted to avoid the traditional food pairing Swede and "neeps and tatties". We chose fried potatoes and beetroot. Excellent!
The wine selection was an easy thing at the end. Most recommendations were in direction of a strong red as equal partner. We selected a 2010 Lily's Garden Shiraz from Two Hands (McLaren Vale). Very deep coloured, full bodied and a wonderful aroma of black berries. A typical "Wow" wine from South Australia. Usualy not so easy to pair with food (from my perspective), but for the haggis it was an oustanding partner. Haggis is rich and has some "fat" aromas. The wine helps to reduce this "mouth feeling" and supports the intensive aroma without overpowering. My recommendation: Wait perhaps for 10 seconds before drinking the wine after a mouthful of haggis.
At the end a perfect Sunday lunch. We will definitely have haggis again. A wonderful dish for wine experiments.
For my British friends: You can get the wine (2011 vintage) at Majestics.
For my US friends: Import of haggis to the US is strictly forbidden because one part of it is sheep lungs....