Carneros, Napa Valley, California
14.7 % Alcohol
Tasted 2016-06-24 & 2016-06-25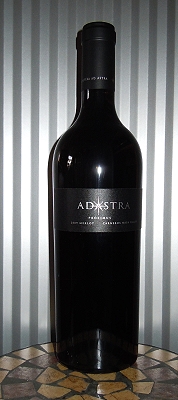 Medium to deep, rich cherry red. Aromas of blackcurrants and blackberries are dominating. Very, very young. Green notes still noticeable. After a while also some smoked bacon and cocoa beans become visible. On the palate the dark fruits are dominating; the tannins are still present and are clearly influencing the flavor profile. Waiting an hour: Now the wine becomes smoother and smoother. So the message is clear - decanting is the key. The next day: Now the tannins are perfectly integrated. Taking the small number of remaining sips is pure joy.
I met Edwin Richards - the General Manager of Adastra - two weeks before I tasted the wine in the Adastra tasting room at Sonoma Square. It was a coincidence meeting: We arrived early in Sonoma and Adastra was the first open tasting room. What a stroke of luck! We stayed for more than an hour and were allowed to taste a lot of the fascinating Adastra wines. All of them were anything but superficial. You need time to understand the idea behind the Adastra style. Nothing for straightforward drinkers. This Merlot is a very good example for the Adastra style. I love it.
Pair this capriccioso with Ossobuco alla milanese - but wait another three years.