Napa Valley, California
14.9 % Alcohol
Tasted 2016-09-10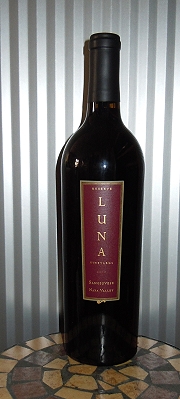 Clear, medium ruby red. A slightly restrained bouquet of prunes, red berries, cinnamon and some other spices. On the palate the Luna Sangiovese develops its whole power. An explosion of red fruit opens all senses. Then a very charming acidity fights against an incredible velvety to get the upper hand. No winner. The fight continues during the whole medium-long finish and ends in a silent, a little bit wistfully final chord. After that the whole throat seems to be paralysed - waiting for the next sip.
I visited Luna Vineyards several times during the last five years. For several reasons. First of all it is within a stone's throw of Napa on the Silverado Trail. Second the environment is absolutely beautiful. Third and finally nearly all wines I tasted there were of exquisite quality. Like this Sangioves Reserve. Definitely one of my favorites from Luna. We enjoyed this shy beauty with a vegetarian pasta dish. And another strength of this wonderful wine becomes obvious together with the pasta. It accompanies the dish without dominating it but also not losing its own character. A great food pairing wine.
Drink this more silent Sangiovese representative now or during the next three years.