Russian River Valley, North Coast, California
15.0 % Alcohol
Tasted 2017-06-03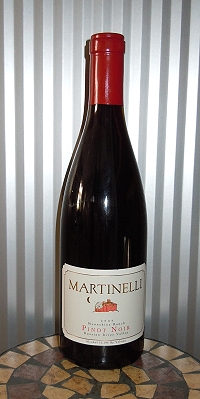 Clear, medium ruby red. Nearly no maturity tones visible. Intensive aromas of ripe black cherries; a little bit like a Black Forrest cake. Or even better: A brownie with pickled cherries. Also some floral notes recognizable and in the background some cinnamon. On the palate: Fruit explosion! An insane mix of fruit acid and spiciness paired with an amazing freshness. Neverending finish. Bravo!
I bought this bottle on the winery years ago. The tasting at Martinelli was very remarkable for three reasons. First - of course - the quality of all wines. But even more the philosophy of the Martinelli people. The Pinots were poured before the Chardonnays. It was the first time for me that the wines were presented in that order, but it makes absolutely sense. Last but not least it was also the first time in California I discussed the microclimate topic in a tasting room - and I learned a lot about the microclimate situation in the Russian River Valley. And this helped me over the last five years to understand the relationship of this fascinating area and its grapes. Thanks for this.
Coming back to this outstanding bottle of the "Moonshine Ranch" Pinot. The wine is absolutely on the top. I don't think it will improve further. Drink it now and pair it with a rib eye steak. And forget any Cab recommendation for this kind of pairing.