Napa Valley, North Coast, California
14.8 % Alcohol
Tasted 2017-06-05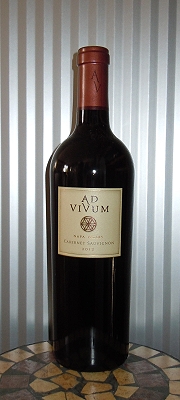 Deep, dark cherry red with some light rims. Extremely young. Lots of blackberries, very dark chocolate and a hint of mocha. The tannins are already well-integrated, but the youthfulness of the wine is obvious. While the wine offers nice creaminess, a certain aggressivity is given. Typical for young Napa Cabs. However the finish is long and smooth with an animating tone of Darjeeling. Fascinating.
The slogan behind this wine project is "AD VIVUM, where wine and life meet". Ad Vivum is a cooperation between well-known winemaker Chris Phelps and fifth-generation farmer Larry Bettinelli, who is the owner of the Sleeping Lady Vineyard just south of Yountville - the source of this Cab. The name shall express the "mystical intersection of wine and life" by the Latin words AD (toward) and VIVUM (Vivere, to live plus Vinum, wine).
One can argue that any new wine project is looking for a slogan for promotional reasons. But it seems to me that the situation here is different. Why? Because the Ad Vivum is not another big, bold Cab. Although the wine has nearly 15 % alcohol, a royal elegance is given. Far away from the usual "give me a lot of points after five seconds tasting" attitude. This wine needs time. A lot of time. And as I mentioned before patience is needed. Wait another two years or decant it for a minimum of three hours. Total lifetime 15 years plus.
At the moment I would pair the 2012 Ad Vivum with braised lamb shoulder. The hearty version!