Napa Valley, California
14.9 % Alcohol
Tasted 2020-04-01, 2020-04-02 & 2020-04-03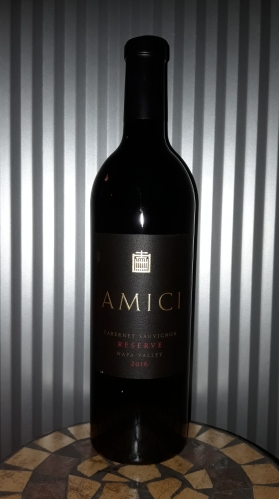 Deep, dark cherry red with some brighter rims. Seems to be heavyweight stuff. Intensive and wonderful aromas of forest fruits paired with some black cherry notes. In addition a hint of licorice but also some tar and wet leather. At the very back red rose petals. Complex.
On the palate at the beginning very fruity paired with an animating freshness induced by its youthfulness. The freshness is dominating the first five seconds. After this it is replaced by a little acidic velvety which remains long. Very long.
The Cabernet Sauvignon wines from Amici are not really inexpensive. In total the winery offers eight to nine different Cabs per vintage! This Reserve is the "second cheapest" in the ranking of all these Cabs - and its quality is already tremendous! I would love to taste all others, too

. Leave this wine alone for a minimum of three years. Then it will be on peak for another ten to fifteen years.
On the second day the wine was unchanged. But on the third day the acidity was totally gone. Now a floating velvety was clearly dominating. Absolutely delicious.
This is definitely a wine for meat. The third day we paired the Cab with Black Angus Beef Goulash - and it was awesome. But it will also work faboöous with a high-end BBQ. Enjoy it.