The Wines:
2017 Montpellier Vineyards Viognier (88/100)
California
12.5 % Alcohol
2016 Montpellier Vineyards Syrah (87/100)
California
12.5 % Alcohol
Montpellier is a brand of Bronco Wine Company. They are advertised by BWC with the following statement: "Champion of wines for everyday consumption". That's especially true for the Viognier – but that's not all.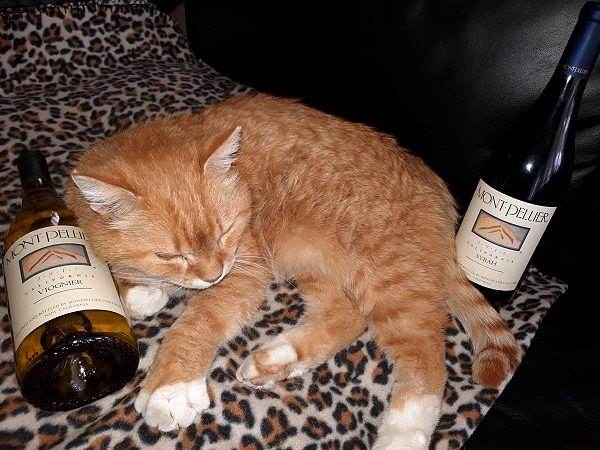 We came across a bottle of the 2015 Montpellier Viognier in 2018 at the famous Bottle Barn in Santa Rosa. Last bottle, very dusty, looked not really promising. At home we were totally surprised. The wine was in very good condition and tasted really good. So we asked our importer if it would be possible to get some cases for our business. And indeed: In July 2019 we received a couple of cases of the 2017 Viognier.
Since then we tasted the wine several times and it is nearly sold out. This Saturday we found in our cellar a bottle of the 2016 Montpellier Syrah. So we wondered if we should have a Sunday dinner with the "everyday champion(s)".
We got us two wonderful sirloin steaks and paired them with homemade potato strips spiced with rosemary and wild marjoram. In addition a fresh side salad.
But first tasting the wines.
The
2017 Montpellier Vineyards Viognier
presented itself in shining gold. Aromas of quince, yellow peaches and light citrus notes sprung out of the glass. Still amazingly fresh. Gripping and present on the palate with plenty of ripe fruit notes. Nice, velvety length.
The
2016 Montpellier Vineyards Syrah
offered a bright red ruby color. In the nose, dark chocolate paired with dried cherries, maybe a hint of cold tobacco. Also fresh (and fruity) on the palate with a slight animating acidity. The finish is surprisingly long for a Cali Syrah in this price range.
Indeed both very good value. And still not at their end – probably two or three years more in that condition.
But what about the pairing? Only one word: Perfect. In particular the Syrah became even better in interaction with the sirloin and, in addition to the naturally present sweetness, developed a very pleasant slight spiciness. For the Viognier its slight creaminess had a positive effect, although it would not be my first choice for this dish.
Overall, there are some notable things about these – in terms of price perspective "lower-end" - Californian wines. In addition to the surprisingly good quality, this is essentially the mature capability of the wines, but especially the really good food accompaniment.
So really "everyday champion". Even on a Sunday.