2012 Roberts + Rogers "Louer Family Vineyard" Cabernet Sauvignon
St. Helena, Napa Valley, California
Alcohol 15.4 %
Bought: 2015-09-20 at CostCo
Price (w/o TAX 9.00 %): $ 49.99
Tasted: 2015-09-29, 2015-09-30 & 2015-10-02
Ratings: WS 92/100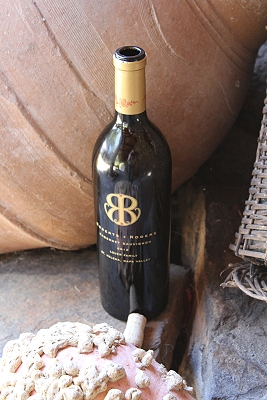 Great Stuff - the 2012 Roberts + Rogers "Louer Family Vineyard" Cabernet Sauvignon
Medium ruby to cherry red. At the beginning a little bit liqueur-like, but with some air complex aromas of several dark fruits paired with licorice and earthy herbal notes arise. The first sip offers ripe blackberries which suddenly explode in a sensational mixture of tobacco, cold black tea and black pepper. Very good!
The name
Roberts + Rogers
bases on the names of Robert Young and Roger Louer. These two friends decided in 1999 to establish a "Cabernet Sauvignon wine brand, sourcing the grapes from Howell Mountain, Napa Valley, California. The first vintage of
Roberts + Rogers, Howell Mountain
was the 2004 Cabernet Sauvignon, released in 2007 with around 300 cases available." (http://www.robertsandrogers.com/) The 2012 vintage is the first release under the
Roberts + Rogers
label.
I know what most people will immediately complain about - the alcohol. But to be honest: I don't care. If the alcohol is integrated in such an outstanding way as winemaker Barry Gnekow did for this Cab, then this is not a problem. The plan was to see what would happen four days after opening. The wine didn't fall apart. Very often after this time frame only bitter alcohol is tasteable. Not here. The wine is still smooth, elegant and very harmonic. Kudos!
You can drink the wine now (after two hours decanting) or in ten years. The result will be the same: A tremendous Napa Valley Cabernet Sauvignon experience. Pair this power pack with Smoked Beef Brisket.