Sonoma Valley, North Coast, California
14.4 % Alcohol
Tasted 2017-04-29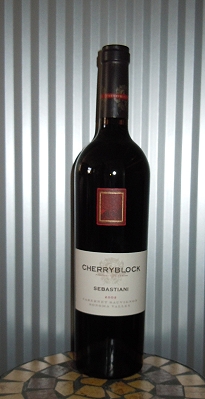 Deep, dark cherry red with some light rims. Intensive dark berry fruits paired with a little bit of bacon and some black pepper. On the palate fresh with a nice acidity and in parallel a little bit spicy. Long refreshing finish. Terrific example of a Sonoma Cab. A little bit fresher and more elegant than the brothers and sisters from the famous neighborhood.
We visited Sebastiani in June 2016 for the first time. The reason for our visit was the "ordinary" 2010 Cab we drunk some weeks before (see also
2010 Sebastiani Cabernet Sauvignon "Sonoma County"
). The tasting was outstanding. Wonderful people and exceptional wines. Our favorites this day were the 2014 Viognier and three Cabernets Sauvignon "Cherry Block" (2010 - 2012) which were allowed to taste vertically. Awesome!
Sebastiani Vineyards including the Cherry Block Vineyards was sold in 2008 to the Foley Wine Group. Until this point since 1919 the Cherry Block Vineyards was owned by the Sebastiani Family. The tasting of these fantastic Cabs at Fourth Street in Sonoma was so remarkable that I did not hesitate for a second when a well-respected German importer offered me some bottles of the 2002 Cherry Block for my business. He originally had held these bottles back in order to drink them himself, but decided at last that he could not drink all of these wines.
The fruits in 2002 exhibited lots of color and tannin. Therefore the Sebastiani winemaker decided to blend the Cab with more Merlot as usual to soften the wine and increase its elegance. Great decision. The wine is on the top with a huge potential for the upcoming years. You should use a two-prong cork puller for opening but this is the only restriction. If you are looking for the perfect partner for a classic turkey dish then don't look any further. The 2002 Sebastiani Cherry Block Cab will take care of this for you.