Napa Valley, California, USA
100 % Cabernet Sauvignon
14.3 % Alcohol
Tasted 2023-11-03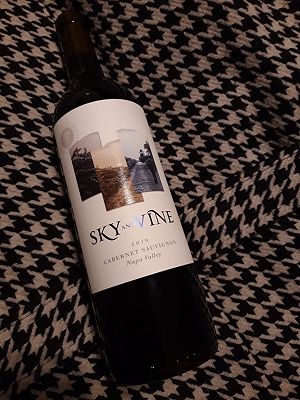 Explore the nuances of the 2019 Sky and Vine Cabernet Sauvignon Napa Valley, a distinctive label under the stewardship of S.R. Tonella Cellars. Pouring a profound black cherry, this wine is a sensory explosion, with extreme fruit notes practically leaping from the glass, complemented by a subtle touch of Black Forest ham.
On the palate, it showcases a luxurious silkiness intertwined with hints of tobacco and the persistent presence of black berry fruits. The protracted finish gracefully oscillates between fruit-driven exuberance and the velvety sophistication that defines this wine.
In its nascent stage of enjoyment, this Cabernet Sauvignon beckons patience. Give it three more years, and it promises a minimum of six more years at the zenith of its expression.
Perfectly paired with delicately spiced dishes, especially those with a chili-infused kick.