Sonoma County, California
88 % Merlot, 8 % Malbec, 4 % Cabernet Franc
13.9 % Alcohol
Tasted 2017-10-22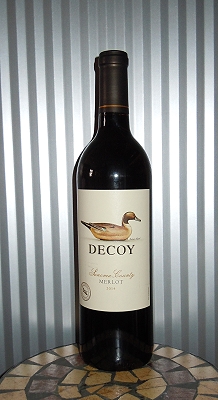 "The everyday wine for the well-informed." - I think that it is a slight understatement by the Decoy people. A wonderful food-pairing Merlot.
Clear, medium ruby red. Notes of pepper seasoning and rose pepper paired with maraschino cherries. At the beginning the spices are definitely dominating. After a while also black cherries and bramble berries are noticeable. The total picture is perhaps a little bit reluctant. But this changes dramatically with the first sip. Very elegant and totally balanced. Fresh, fruity and a discreet acidity. Long, smooth finish. No hardness recognizable as very often seen with Californian Merlots.
We selected this wine for a great lamb filet dish. Served with rice and plum chutney. In addition rocket salad with apples, cranberries, goat cheese and lemon dressing. And exactly here the Decoy shows its strength. No matter if you taste the ingredients separately or as full accord: The Decoy Merlot knows the answer. Strong with the meat and peppery fruitiness with the chutney. And in combination? Simply underlining all the flavors. Bravo!
"The everyday wine for the well-informed." This is what Decoy writes on the back label. I believe there is more. Elegant wines which can be fantastically combined with a lot of dish ideas. This particular Merlot is your partner for the upcoming events with duck, turkey or goose.
Just at the beginning. Will be even better in one or two years. Total lifetime 5+ years.